If you own a watch collection and are looking for a way to store your timepieces in an organized and show-worthy manner, then you've come to the right place.
In this post, we will share a list of seven watch storage ideas. Each idea can help you safely store, organize, and display your favorite pieces in a convenient and elegant way.
Now that we're done with the intro, it's time (pardon the pun) to discuss the watch storage ideas.
1. Watch Boxes
Boxes are the most popular storage solutions for watches. Since they are available in a wide variety of sizes, shapes, and materials, you have a plethora of options to choose from.
But perhaps the biggest benefit of choosing a box for storing your watches is how well they can display your collection. A glass-topped box is a great way to show off your timepieces in a refined style.
All in all, boxes are one of the most practical and classiest storage solutions.
So what's the downside? The only one we can think of is that they can take up a lot of space on your dresser. However, if you don't want to dispense any of your dresser space, you can place your collection on a side table in your bedroom, anywhere in your dining room, or in any other area with some free space.
2. Watch Rolls
Looking for a compact and versatile solution to your storage needs? Then watch rolls are exactly what you need. They come in two main varieties:
Hard Case Inserts:

All solid case rolls fall into this category. These cases are more durable than their counterparts and have more storage space as well.

Soft Case Inserts:

On the more affordable side, leather and waxed canvas roll-up bags fall into this category. If your watch collection is small — no more than ten — then soft case inserts are ideal for you. They're small, inexpensive, and easy to take along for travel.
3. Watch Stands
If you want a storage accessory that will blend easily with your furniture, then a stand is it. Watch stands are a popular storage option for three main reasons:
Convenience:

On a watch stand, your accessories are out in the open, making it easy for you to choose which one you want to wear for the day.

Protection:

Watch stands provide protection from some of the elements that occur naturally in your room.

Versatility:

Watch stands look great on every dresser, no matter the material they're made of. That's why they're one of, if not the most versatile storage accessories.
4. Watch Racks
Looking for a simple and inexpensive solution? A rack is exactly that. It's a great way to display your watches out in the open, making it easier for you to decide which one you want to wear for the day — as you can see all your pieces at once.
Racks usually come in a T shape with the top of the T serving as a holder for the watches. The T shape allows your pieces to hang loose and at the ready for whenever you want to wear them.
So a rack is a storage option that's both cheap and convenient. The only downside is that it's not the best option for keeping your collection as protected as it can be. Your watches will be exposed to dust, dirt, and debris. So if you go with a rack, make sure to clean your collection as regularly as possible.
5. Boxes With Locks
Are you worried about your watch collection getting stolen or damaged?
Then you should consider opting for a box with locks. It will allow you to safely store your pieces, giving you peace of mind that they will not be damaged or stolen while you're gone.
Furthermore, just like other watch boxes, boxes with locks also come in a wide variety of shapes, sizes, and materials. So you have a lot of options to choose from. That being said, just like normal boxes, they also take up a lot of space on your dresser. But that shouldn't be a problem as you can place your collection in just about any area of your home with some free space.
6. Watch Cushions
If you own an expensive collection of luxury watches, then you may want to consider investing in cushions.
Why? Well, since a watch gets damaged when it lays flat for an extended period of time, you want an option that allows you to store your watch in a neutral position. A position that's similar to the way your watch rests when it is on your wrist — and cushions provide exactly that!
Cushions ensure that your watches stay in their correct shape while they are in storage. So if safety is your top priority, then a watch cushion is the ideal storage solution for you.
7. Glass Displays
For those of you who own a large luxury watch collection, glass displays are your ideal storage solution. They can store dozens of watches and display them in a show-worthy style.
Furthermore, having a glass or crystal top on your case also ensures that your timepieces are not exposed to the air for a long period of time. As a result, they stay safe from water damage caused by humid air. That's why a glass display is a must-have for those of you who live in an area with high humidity throughout the year.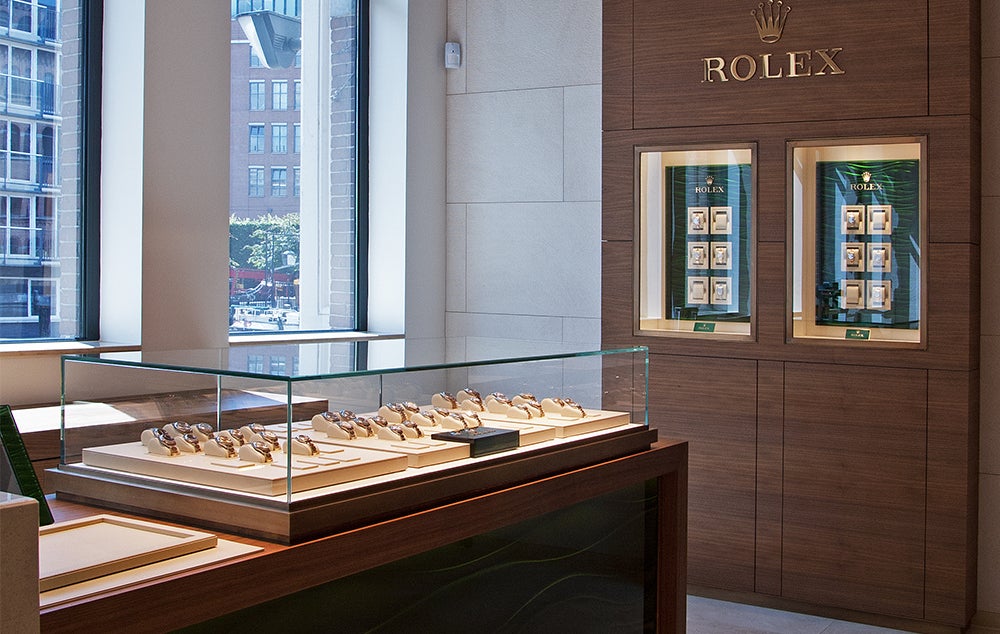 If you're looking for a storage option that can secure dozens of watches, looks great on any dresser, and is convenient to use in times of hurry, a glass storage display is your answer
It's Time to Take Your Pick
As promised, each watch storage idea shared in this post can help you store your collection in an organized and show-worthy manner. Best of all, most ideas are even convenient for traveling.
So which storage idea do you prefer? Shop our luxury collection to display your Watch like a king.